The Pain Relief Application Fields of the Healy
Find out what the Healy can do for your pain relief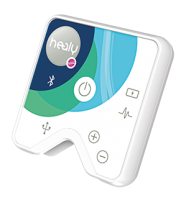 The Healy for Your Pain Relief
Programs for Your Pain Relief
Healy is designed to provide you with applications for various local, acute or chronic pain conditions and muscle soreness that can get you down.
Here's what users say about their Healy
Photos and surnames partially changed for data protection purposes according to EU GDPR (General Data Protection Regulation)
"Healy helps me relax after a stressful day at work."
Annett Sanders
Consultant
39 years old
"Since I've been using Healy, I feel I can better withstand stress."
Stephan Steiners
Sales Representative
34 years old
Notice: Individual experiences, not representative and applicable for every user
Healy is a compact and reliable companion for your pain relief.