The Wearable for Health - Well-being - Balance
Healy is a medical device and wearable. It is new and unique.
Healy offers you a world of applications.
Enjoy Life to the Fullest!
Feeling well and being happy about your life is one of the most important things there is. Be it at university, at work, doing sports or within your family – you always want to live a healthy life and be active and balanced. Health, well-being, balance – that's what makes up your lifestyle.
Health of course is not to be taken for granted. Do you want to actively stay healthy? Do you want to be fit to better cope with everyday challenges? Do you want to strengthen your resistance to stress? Are you looking for alternative treatments for health complaints and pain?
Active health promotion can improve your quality of life and your well-being. It is a way to stay healthy for as long as possible into old age. Is this the reason why you are looking for ways to promote and increase your well-being? Would you like to relax and unwind in order to recharge your batteries for everyday life?
Mental and emotional balance is important for a contented life. Are you looking for ways to find yourself, to restore the balance between body, mind and soul? Do you want to experience joy and vitality and improve your self-esteem? Would you like to reach a state of peace and serenity?
The Wearable for a Holistic Healthy Life
Always the right frequency for life
Healy is a certified wearable that uses individually determined frequencies to stimulate specific areas of your body. Through regular use of the selected frequency programs, Healy can support restoring the cell membrane tension to a natural level. This versatile little device contains frequency programs that help promote your health, vitality and overall wellbeing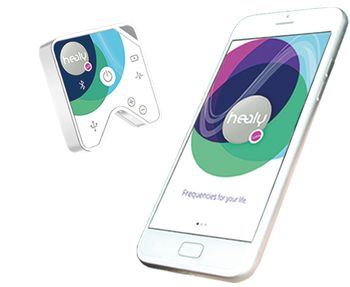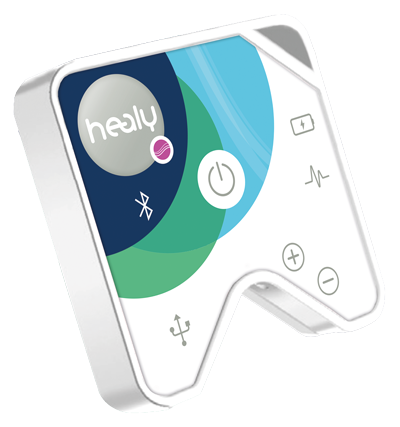 Feel Healthy All the Way with Healy
Isn't it a great feeling to feel strong, active and healthy? A healthy body and mind means quality of life, after all.
That's why Healy offers you applications to help you stay fit, and bioenergetically regenerate and reduce pain. It is designed to support you in stressful situations during the day, help you recover more easily and find peace in the evening.
Healy is meant help you to increase your vitality to improve the flow of your energy reserves and to activate your energy reservoirs.
Programs for so many of the important areas of life.
Healy offers you individual programs that can support you in the following ways:
✓ Pain / Psyche
✓ Sleep
✓ Gold Cycle
✓ Mental Balance
✓ Job
✓ Skin
✓ Learning
✓ Fitness
✓ Beauty
✓ Meridians
✓ Chakras
✓ Bioenergetic Balance
✓ Protection Programs
Healy's frequency programs can support you after just a 20 minute application, no matter where you are: playing sports, relaxing, at work, home, or on the go.
Here's what users say about their Healy
Photos and surnames partially changed for data protection purposes according to EU GDPR (General Data Protection Regulation)
"Since I use Healy, I finally feel well rested and full of energy."
Uwe Albrecht
Controller
43 years
"Healy helps me relax after a stressful day at work."
Annett Sanders
Consultant
39 years
"My Healy helps me stay focused and balanced even on psychically stressful days."
Jens Mälzer
Managing Director
42 years
"With Nuno Nina's Gold Cycle programs, I'm much more balanced."
Berta Koch
Health Store Consultant
36 years
"With the Healy I can finally improve the energy flow of my medians holistically."
Ewa Nguyen
Naturopath
45 years
"Since I regularly use Healy's beauty programs, I get a lot of compliments."
Kristin Luke
Student
24 years
"Since I have my Healy, learning for difficult subjects is much easier."
Jonas Fischer
Student
22 years
"I feel much more comfortable and have more vitality in activating my forehead chakra."
Charissa Müller
Freelancer
29 years
TimeWaver Information Field technology is being used with great success in more than 40 countries.
More than 1,500 doctors, alternative practitioners and therapists are using TimeWaver and Healy products every day.
More than 500,000 applications on clients with TimeWaver and Healy technology and know-how.
Healy can enrich your life in more ways than one. It is designed to improve your health, your well-being and your balance.