The Medical Application Fields of Healy
Find out what Healy can do for your Health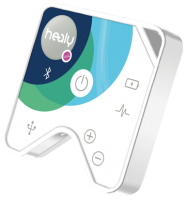 Healy is a medical device for the treatment of chronic pain, fibromyalgia, skeletal pain and migraine as well as for the adjuvant therapy of mental illness such as depression, anxiety and associated sleep disorders. 
Healy is designed to provide you with applications for various local, acute or chronic pain conditions and support for mental illness.
Here's what users say about their Healy
Photos and surnames partially changed for data protection purposes according to EU GDPR (General Data Protection Regulation)
"Since I use Healy, I finally feel well rested and full of energy."
Uwe Albrecht
Controller
43 years
"Healy helps me relax after a stressful day at work."
Annett Sanders
Consultant
39 years
"My Healy helps me stay focused and balanced even on psychically stressful days."
Jens Mälzer
Managing Director
42 years
"With Nuno Nina's Gold Cycle programs, I'm much more balanced."
Berta Koch
Health Store Consultant
36 years
"With the Healy I can finally improve the energy flow of my medians holistically."
Ewa Nguyen
Naturopath
45 years
"Since I regularly use Healy's beauty programs, I get a lot of compliments."
Kristin Luke
Student
24 years
"Since I have my Healy, learning for difficult subjects is much easier."
Jonas Fischer
Student
22 years
"I feel much more comfortable and have more vitality in activating my forehead chakra."
Charissa Müller
Freelancer
29 years
Healy is a compact and reliable companion for your health.